Our Neighborhood and Team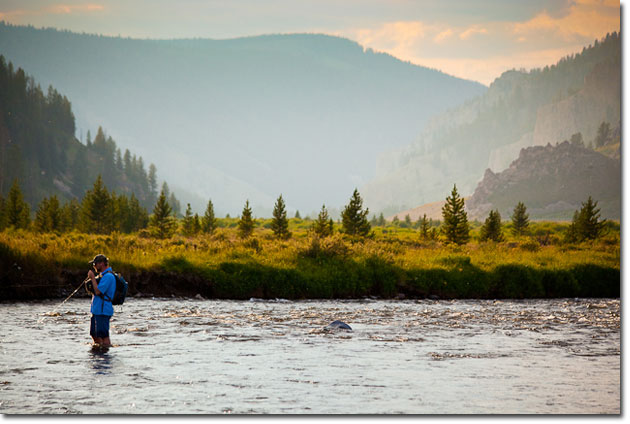 Dry Fly Media headquarters is located in Bozeman, Montana, just east of the confluence where the Gallatin, Jefferson and Madison unite to form the Missouri, just west of the longest free flowing river in the country – the Yellowstone and just north of legendary Yellowstone Park.
For folks who love moving water and great rivers there are few places on the face of the earth that offer so many great waters within a few hours of one another.  Those great waters still run through some wild country – there are grizzly bears wandering through the neighborhoods now and then, and there are only fifty or so miles of wild country between here and Yellowstone (including the Gallatin Range Bear Management Area).
Bozeman is a somewhat unique community, still a small town though suffering some growing pains; attractive not only to native Montanans, but outdoor enthusiasts of every stripe and even a few trust fund types.  We don't blink at drift boats in every third driveway or guys and gals in camo at the grocery store or in our favorite breakfast spots downtown, though we might poke fun at a Hummer or Audi.  People still walk everywhere in our town, and still ride mountain bikes to the grocery, to work and to dinner.
We have freestone streams running through town and within minutes of almost any location in the valley, with great rivers literally minutes away.  Ready access to public land and wilderness areas in sight of "downtown" shape the mindset of most who live, work and play here.
Humble Montana State University in Bozeman is home to one of the premier film and photography programs in the country, rivaling the big name schools on the coasts in this area.
Winter is a big part of life in Montana; it offers an entirely new venue of pursuits with several Nordic and three major downhill ski areas less than an hour away, endless backcountry skiing, snowshoeing, and sledding (the sleds with power).  There are lots of us who head for the lower valleys and even fly fish year round.
The majority of our neighbors and team are outside virtually every day no matter what the weather – most of our team in fact worked together on a horse ranch in northwest Montana in years past.  Working outside every day of the year brings a new perspective to the change of seasons, and to the potential that every day brings.
Bozeman and its environs provide endless inspiration to do the work we do.
We also have an office and growing presence in Western Washington – we now have team members spending part of the year in Olympia and Gig Harbor.  Hey, we have to make a real living too, and are all involved in various 'real world' business pursuits to pay for gear and time behind the camera(s).
It's not all work over here – Puget Sound and the waters of the Olympic Peninsula offers astounding fly fishing and steelheading opportunities, we're working to line up sponsors for a very interesting steelhead oriented project for the late fall and winter even now.
Chi Wulff
Several of us involved with Dry Fly Media run a little fly fishing blog – Chi Wulff – with friends from the fly fishing community. What started off as a little side project in 2007 has grown to foster a readership on every continent and offered up nearly 4 million page views over the twelve months ending in October 2015. And she's still growing…
Our Team: The Principals
Jake McGlothlin
Jake is our principle videographer, video editor and web guru.  He has been around fly fishing and rivers ever since his father, Mark, first put him in a driftboat at the tender age of two.  Since then, Jake has become adept at the art of chasing fish with a fly rod.  Fly fishing is his driving passion in life.  Teaching himself the ins and outs of the digital world, he fell into digital video several years ago and has never looked back.  He greatly enjoys the challenges and rewards of creating video, and is constantly looking to improve his skills.  Jake lives in Bozeman and when not working is on a river or hiking the ranges nearby.
Mark McGlothlin
Mark is our principle still photographer and runs the business side of the operation.  His love affair with freestone rivers started after buying his first film SLR (a 'manual everything' Mamiya Sekor) as a freshman in high school way back in 1973.  Life is a lot different these days shooting a Canon 5D Mark II and processing images in Lightroom and Photoshop.   He first learned to throw a fly back in 1984 in Salt Lake City, caught his first native Cutthroat in Yellowstone in 1985 and has been fly fishing from Texas to Montana since.  Taking an early out from a practice in the biomedical sciences Mark has his hand in several businesses that keep him roaming the West and South fairly consistently.